More Walk of Fame Food
Walk in and Eat
Napkins ready? Most of these places are on Hollywood Blvd. or Vine Street. There are many little eateries nearby on Sunset Blvd. and Santa Monica Blvd. Also try Highland Avenue just South of Hollywood Blvd. for more restaurants. They come and go with each passing month. Many places to eat are inside the Kodak Theater complex. It also has the only public restrooms in the general area.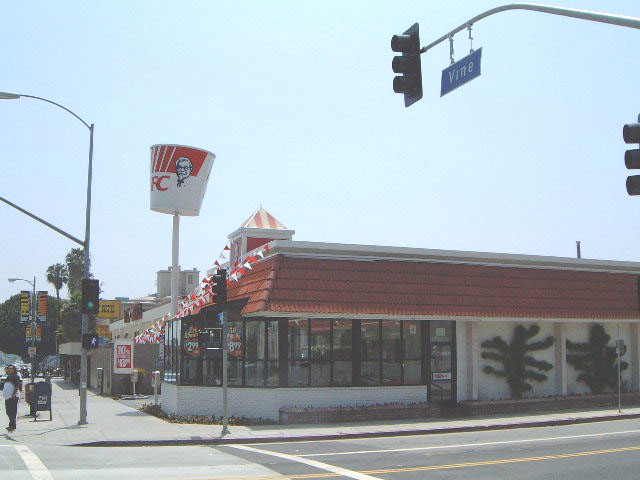 Kentucky Fried Chicken, Vine Street at DeLongpre This KFC is about one block South of Sunset on Vine Street. This is the only KFC in the nearby area so if you like The Colonel's fixin's go South. (On Vine Street, that is.) If you like bargains there is a Big Lots store just a few more paces South. That is a store which features anything that has been discontinued and other items.
New York Pizza, by the slice at Hollywood Blvd. and Las Palmas (This one is no longer there, but many small mom and pop places do exist on Hollywood Blvd. nearby.) Another pizza place for the walk in snackers. Las Palmas Blvd. is about halfway between Highland and Vine Streets. Nearby shops include a tatoo parlor, an Army surplus store and you are getting close to Frederick's of Hollywood. Be sure to check the side streets near Hollywood Blvd. for walk in type fast food and snacks. Many small storefront places to eat or dine in style.
Links
Hollywood Screams (Horror Movies)
Fairfax, Hollywood's "Other" High School
Restaurants
Hollywood Eats
Hollywood Hamburgers
Jack in the Box, Sunset at Cahuenga A very busy place in a busy area just West of Vine Street on Sunset at Cahuenga. This place has a big parking lot. The hamburgers are very good. It is across the street from the old RCA Records building which is now the L.A. Film School.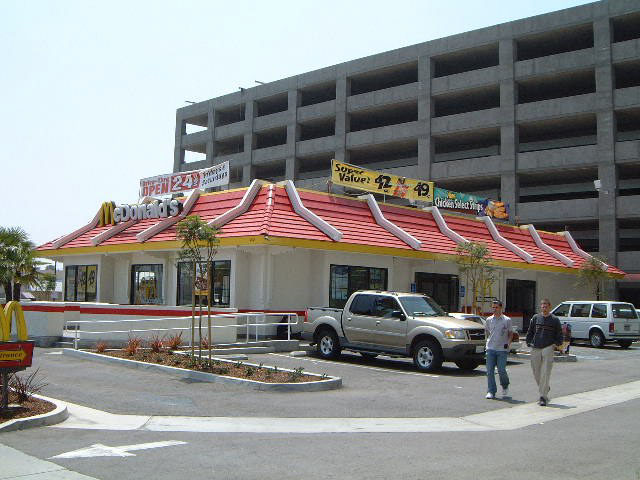 McDonald's, Vine Street just South of Sunset McDonald's is in this location on Vine South of Sunset and also on Hollywood Blvd. a few doors East of Highland. If you need to park go to the Vine Street location. The Hollywood Blvd. McDonald's is next to Ripley's Believe it or Not.
More Links
Places to Eat in Hollywood, Page 2
Places to Eat in Hollywood, Page 3
Places to Eat in Hollywood, Page 4