Movie and TV Extra Work
Movie extra work was what got me onto movie sets and movie lots when I was still learning about the business. It was an essential part of my success in the world of entertainment. Without my movie extra experience in Hollywood I would not have become an actor.
The Kissing Extra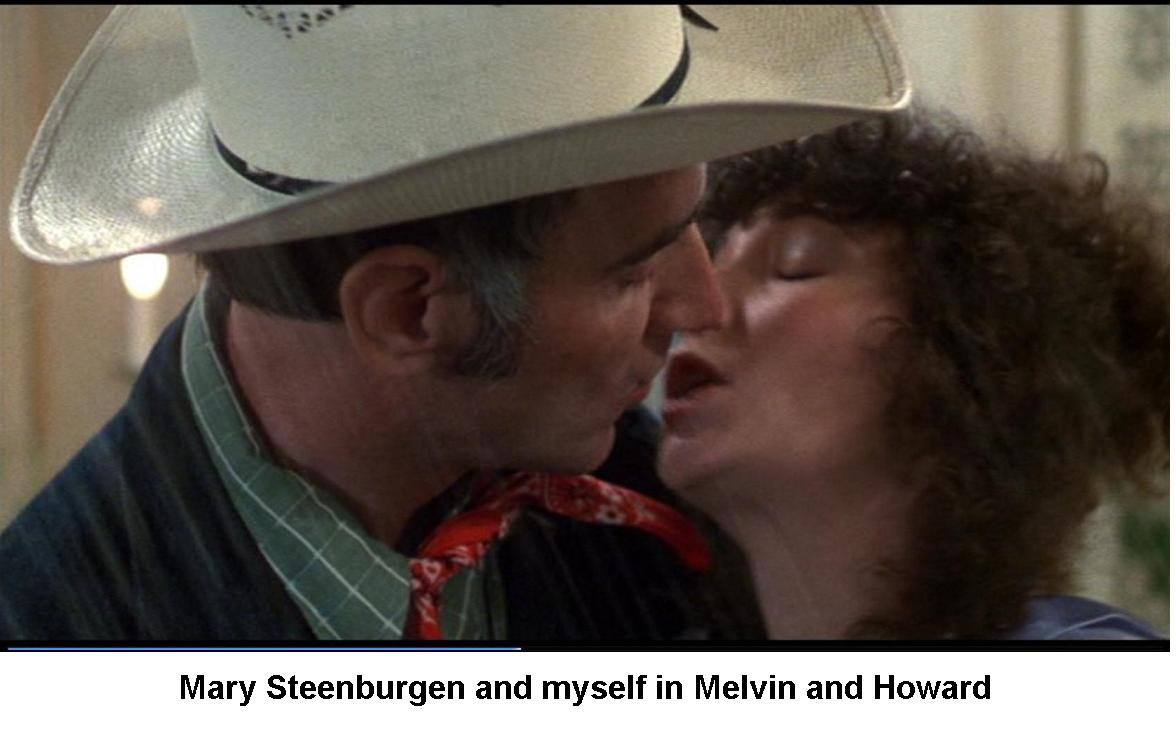 If I had not started out as an extra I cannot imagine how I would have made it as an actor. I learned what happens on a set. I worked in many scenes with famous actors. Early in my extra career I did a kissing scene with Mary Steenburgen in Melvin and Howard. She won an Academy Award in that movie as the best supporting actress. That was known as a Silent Bit for which I was paid more money. The scene was done at a wedding chapel in Las Vegas. Melvin and Howard is a movie based on Howard Hughes life in Las Vegas. It is an excellent comedy movie.
Background Extra Secrets
When I was an extra I was paid for using my old car in scenes. I was paid for my Abe Lincoln wardrobe. I was paid for my police officer uniform. I was hired for shows because I had 1940s and 1950s clothes. I also had wardrobe for cowboy characters, construction, hospital patient, costume party and many other special looks. I was a hustler when it came to getting work as an extra. When I moved to Los Angeles in 1980 I was ready to work. It did not take me long to become established as one of the busiest extras in Hollywood. The movies wanted my wardrobe and to get the look, they hired me. I also kept my hair at a medium length that could be right for any era.
Because of my availability as an extra I became noticed by directors and assistant directors who often upgraded me to Silent Bits and speaking parts. I joined the Screen Actors Guild. I had joined AFTRA (American Federation of Television and Radio Artists) in the 1960s when I was a radio announcer. I made more than enough in each guild to pay the dues and help with my living expenses. I also had joined the Musicians Union in the 1960s. That helped me get more jobs in movies. Working as a movie extra was one of the secrets of my success as an actor.
Be sure to check Makin' it in Hollywood. That is a good place to begin.
Any e-mails for the webmaster can be sent to this e-mail address.
Build your own income producing site
Hollywood Screams (Hollywood Horror)
Fairfax, Hollywood's "Other" High School
I was one of the night scene lighted umbrella men in Blade Runner
The first TV series in which I appeared was VEGA$, filmed in Las Vegas. I lived there at that time and I worked several episodes of that show. It was a very fun company to work with.
I was the bowling alley manager, working as a movie extra in Grease 2.
Road To Hollywood
Movie Extra Work
Today the union extra work is under the jurisdiction of SAG (Screen Actors Guild) and AFTRA. There is a lot of non union work offered also in major cities. Your first few jobs might be unpleasant experiences because most newcomers are used for crowd scenes. If you stick with it and let the casting office know your special skills and abilities and your wardrobe specialities you will gradually become known. Do not expect a great role at first, but expect a great role eventually. There are great roles to be had for extras.
Initiation fees to join SAG are approximately $2300 plus a first year or six month member dues. It will vary depending on circumstances. For AFTRA the initiation fee is $1300 plus the first of your annual dues. The dues will depend on your earnings. To join AFTRA just walk in the door with the money in your hand. To join SAG you will need to prove you have attained a certain level of union employment. Check their sites for details which are always in flux.
Should you work a non union extra job? It probably will be hard work for no pay, but it could be an addition or a beginning to your resume. If I were just starting and I had a chance to work a non union job as an extra, I would. It depends on what you are after.
I can tell you that extra work is what got me into my acting parts. Try it. One way to start is to contact the Motion Picture Commission of your state or Metro area. Sometimes it will be listed as a Motion Picture Authority or Motion Picture Council. Whatever it is called they can let you know the name and location of agencies for movie extra work near where you live. Also try Agents in your local phone directory or look on Craigslist. Good luck and have fun. Many famous actors once worked as movie extras.
More Links