Singing Success Stories
Not all Hollywood success stories are the same. There are some people who act in plays and who happen to be seen on a good night by a casting director. They then are asked to audition for some part and they go on to become working actors. Making it or "makin' it" in Hollywood is most often a totally different process. Here are some other ways to show business success.
Some of the big names in show business started as singers or songwriters and made a lateral move into acting. Madonna, Dolly Parton, Willie Nelson, Kris Kristofferson, Will Smith, Roger Daltry, The Beatles, Elvis, Barbra Streisand, Harry Connick, Jr., Whitney Houston, Mark Wahlberg and Sting just to name a few were able to make it big in Hollywood after they made it big in music. They have all made movies and they did not have to act on stage in Shakespeare first. Makin' it is quite often a sideways move into a Hollywood movie by invitation after someone makes it big and becomes famous as something other than a great actor.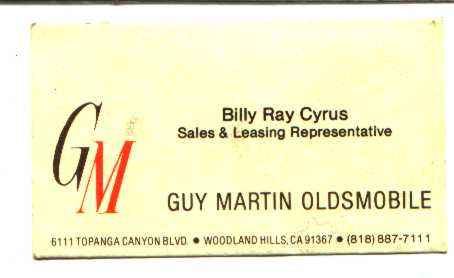 California Oldsmobile salesman makes it. I met Billy Ray Cyrus on June 13th, 1985 at The Palomino Club in North Hollywood, California. He and I were both singing in the Talent Night show. He liked the way I played piano and asked if I would accompany him when he went on stage. He performed "Johnny B. Goode." He was an excellent performer but he did not win a prize. He was not interested in winning. He wanted to perform and he wanted to do a good job. He came to my condo on June 15th and asked if I would be the keyboard man in his group. I was not interested in working late night jobs as a musician. It was too much like work. He and I performed at many other showcases and he eventually moved to the East. I lost track of him until I heard his big hit recording of "Achy Breaky Heart." I was glad he found a way of "makin' it."
He was a nice guy to know and he was very stable. He sold cars to make ends meet while he formed his band. I was very happy to see him have success. Making it for Billy Ray was a process that took several years to acheive his overnight success. He is now better know as "Miley's dad".
YouTube
This is a new era. YouTube matters for those of you with some talent. If you sing or do comedy be sure you have a YouTube account with an easy to remember name. It has been helpful for me. I am Featureman at YouTube. I do make money there as a partner.
Links
Hollywood Screams (Horror Films)
Fairfax, Hollywood's "Other" High School
More Links
The most important person... The Fan
Making it in Hollywood
Sports
Arnold Schwarzenegger is perhaps the biggest star who began his career as a famous athlete. He was a bodybuilder and Hollywood called on him to do, what else? "Pumping Iron" was how the powers that be in Tinseltown thought Arnold should be utilized. After all, Arnold is a funny name and he has this accent and those big muscles. Thank goodness Arnold went beyond their perception of him. His path to "makin' it" went right through the gym and weight room.
Did you ever hear the song "Unchained Melody?" Did you know that came from a movie called... "Unchained?" It was a good but forgotten movie about prison life and the star was an athlete. Elroy "Crazylegs" Hirsch, a football legend, was the lead actor and he was good but the movie didn't make it and Elroy didn't become a big star but he might have. He is a legend in football and his movie is a cult favorite. There are some actors who make it big in cult circles long after the box office receipts have been forgotten.
Football also gave us O.J. Simpson, Jim Brown, Johnny Mack Brown (an old time cowboy star), John Wayne and Joe Namath who became a big star of commercials.
How about The Rock with "The Scorpion King?" He made it big in what I guess is a sports field, wrestling. Same with Hulk Hogan who made movie and TV appearances as an actor. He was not a big acting star but I'm not gonna tell him. Johnny Weissmuller was an Olympic athlete who became the screen's best known Tarzan. Sonja Henie made movies many years ago after her Olympic ice skating victories. Shaquille O'Neal was in a couple of movies. He wasn't a successful actor but the point is he was given a shot and he could still get another chance. Get famous in some field then transfer that fame to the box office. That is a proven way of making it in Hollywood.
Hollywood can be anywhere
I guess this boils down to "do what you do do well." If acting isn't your thing as it isn't my thing don't let that stop you from becoming a movie or TV star. I would argue that far more actors who have become famous have come from the sports and music arenas than from a Broadway or off Broadway stage. Making it is whatever works for you. You can make it big in Hollywood by makin' it big in Nashville or New Orleans or Las Vegas first.
More examples on the next page of folks who became stars without following the Actor's Handbook. Also check Makin' It, Page Three.