Hollywood Stars
Click on the small picture to see a larger picture of the Hollywood Star from The Hollywood Walk of Fame. You may use the picture for any purpose as long as you save it to your own hard drive first. Do not use my bandwidth. It is royalty free. I took the pictures and you may acknowledge this site or myself but it is not necessary. Thanks.
Nashville Meets Hollywood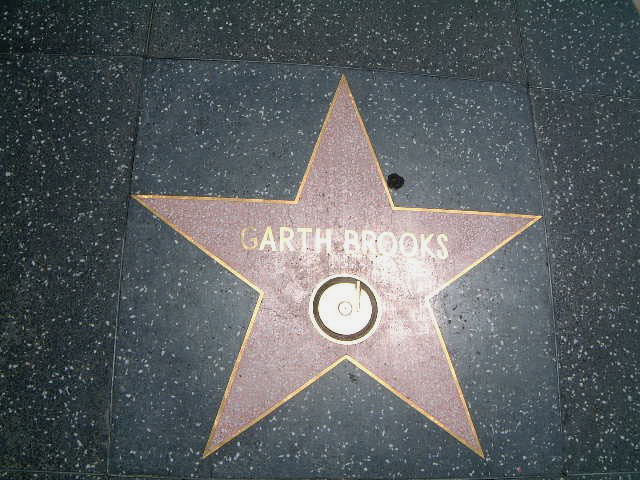 Garth Brooks Star This is right in front of the Capitol Records building just North of Hollywood Blvd. on Vine Street. Many Capitol Records artists have stars near the Capitol Tower. A little farther North is the star for John Lennon. Across the street is a star for Bobby Darin. Many parking lots are in this area but I will warn you I did have a mini motorhome stolen from a parking lot across the street from Capitol Records. It happened during the day. Sorry to say this area is not perfect and after dark it is not the safest place to be. Some homeless types live in some abandoned Hollywood structures.
Most of the people in Hollywood are nice but it is best to travel in groups when the hour is late.
Most of Hollywood is OK for daytime foot traffic but you might see a panhandler or two. You will almost certainly see someone performing on the sidewalk somewhere especially on weekends. Some of the entertainers are quite good. Hollywood's best shows are on the nights when the weather is very good.
Links
Quickly build your own money making website
Hollywood Screams (Scary Movies)
Fairfax, Hollywood's "Other" High School
More Links
Walk of Fame
Hollywood Stars
Damaged Walk of Fame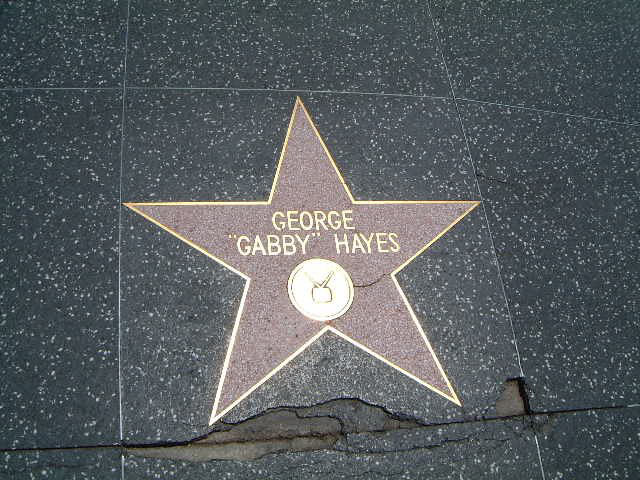 Gabby Hayes was the sidekick of Roy Rogers and John Wayne. This is his star for TV. He was a cast member of the early Howdy Doody TV show. Notice the crack in the sidewalk under the star. There are many cracks in the Hollywood sidewalks. Some stars are damaged but they do try to get them fixed as quickly as possible. There are thousands of stars and the maintenance is ongoing. There are volunteers who adopt and care for the stars of certain celebrities.
The center of the star is a TV set for TV artists and a vinyl record for recording artists. The movie stars get a movie camera symbol and radio artists have a microphone image in the star.
There is a star which has the smiling and frowning faces denoting live theatre or concert work. There are also stars for the first lunar astronauts at each corner of the intersection of Hollywood and Vine for their TV performance from space, which was watched by millions back in 1969. There are photos being taken of the stars on The Walk of Fame every day.