Dog Walk of Fame Stars
Click on the small picture to see a larger picture of the Hollywood Star from The Walk of Fame. You may use the picture for any purpose as long as you save it to your own hard drive first. Do not use my bandwidth. It is royalty free. I took the pictures and you may acknowledge this site or myself but it is not necessary. Thanks.
The Dog Star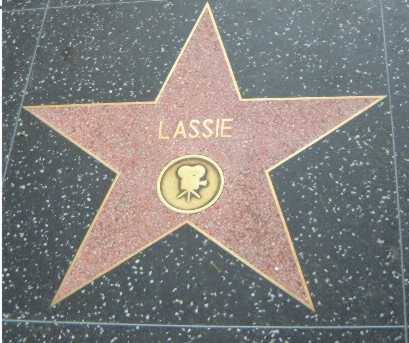 Lassie's Star You need dogged determination to get a star on the Walk of Fame. There are about twelve stars awarded each year. The star must be in attendance to be considered. There are some exceptions, such as posthumous awards. Sometimes thousands of fans show up for the ceremony. The streets are sometimes closed during the Noon hour to control large crowds for some of the pop stars who appear to receive their award.
In addition to Lassie, Big Bird has a star and Rin-Tin-Tin and Mickey Mouse. You will find many stars for technical people and directors and TV news people as well as the movie stars
The stars are often photographed by tourists who like to pose while sitting or laying down next to the star's name. There are people who "adopt" a star and keep it polished and clean. Other stars often are tarnished and not well maintained.
Links
Quickly build your own money making website
Hollywood Screams (Horror Films)
Fairfax, Hollywood's "Other" High School
More Links
Walk of Fame
Hollywood Stars
Five Stars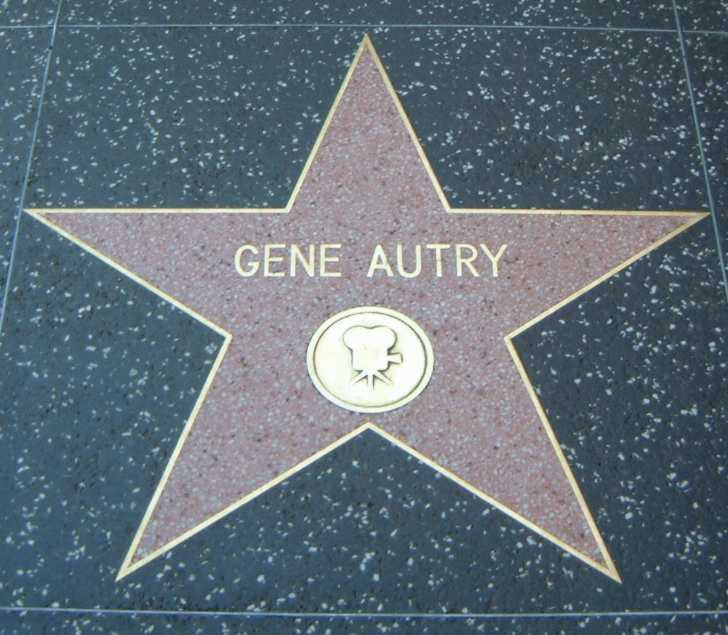 One of Gene Autry's 5 stars This star was given for his motion picture work. Very few people have more than one star. Each time a star is given a committee has to vote. The voting is for people who were nominated. There might be hundreds of nominations sent in by fans for various actors and singers. Since only a few awards are given each year there are still many big names who do not have a star. With new names becoming star performers each year there is a long waiting list for the honor of having your name on the sidewalks of Hollywood.
If you find out about an awards ceremony for one of your favorite entertainers taking place on the Walk of Fame, be sure to get there early. When a star is given there are police officers controlling the crowd and roped off areas for dignitaries. The stars currently are located on both sides of Hollywood Blvd. between Gower and La Brea, and on both sides of Vine St. between Sunset and Yucca St. Often a star is located near some building that was part of the star's career. You will find stars for many Capitol Records artists near the Capitol Records building on Vine Street.