Hooray for Hollywood High
Famous Hollywood High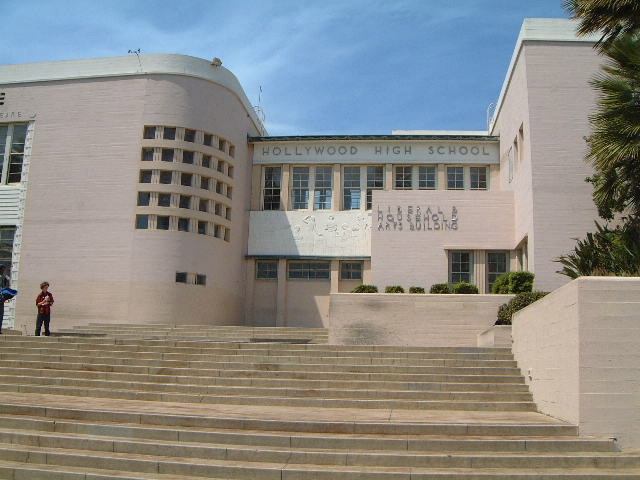 Hollywood High School, This is one of the entrances West of Highland on Sunset Blvd. There have been many graduating classes here at Hollywood High School over the years. Basically it is just a high school which happens to be located in Hollywood. A lot of the students do manage to become celebrities, usually as actors and singers.
Sometimes the children of celebrities are the students. These days in Hollywood you will not find that many famous actors who live in the Hollywood area. The bigger names would more likely live in Bel Air or Beverly Hills or Brentwood or The San Fernando Valley.
On the day I took these pictures there was a film company working at Hollywood High School. I don't know if they were filming a commercial or a TV series or a feature film.
The school is located on Suset just a little West of Highland. The school is within easy walking distance of the Chinese Theatre.
Some of the Hollywood High School attendees included; Judy Garland, Mickey Rooney, Ricky Nelson, John Ritter, Keith Carradine, Sally Kellerman, Lana Turner, Laurence Fishburne, James Garner, Sharon Tate, Stephanie Powers, Yvette Mimieux, Carol Burnett, John Huston (famous writer/director/actor), Warren Christopher (former Secretary of State), William Kennard (FCC Chairman) and Carol Lombard.
The school opened in 1910.
The school is located about one half mile South of The Chinese Theater. Go South from Hollywood and Highland to see the exterior of the buildings, including the mural. The nearest major intersection is Sunset and Highland.
Links
Build an income producing website
Hollywood Screams (Horror Movies)
Fairfax, Hollywood's "Other" High School
Hollywood High School
I have some music available at CDBaby for downloading. One of my songs is a parody of Green, Green Grass of Home, called Green, Green Air of Home.
Hollywood High
Hollywood's Future Talent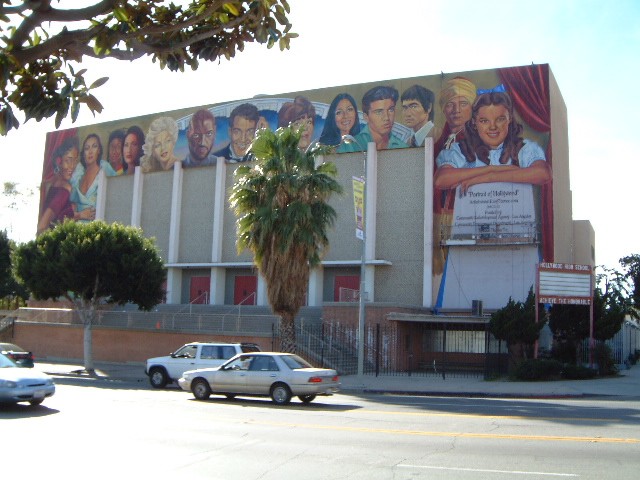 Hollywood High School, Highland Avenue Side This is an updated picture of the mural that now is all but complete. This is on the Highland Avenue side of the school. I took this on January 26th, 2003 from across the street in front of a busy restaurant. The marque did not have any list of upcoming events on this date.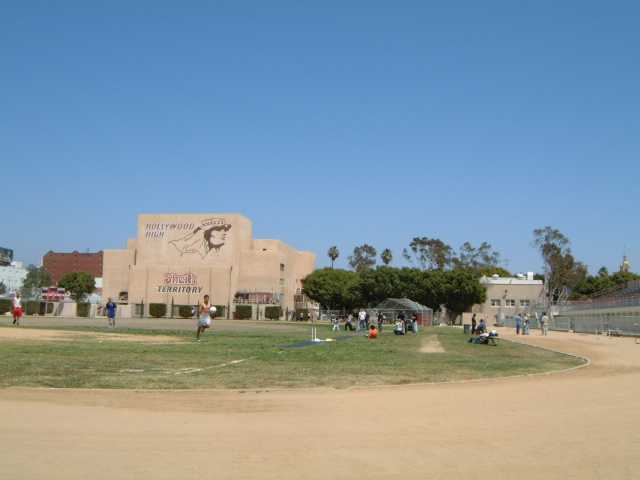 Hollywood High School Track and Athletic Field The Sheiks are the local team. The sign on the wall has the team logo and name. There is a film crew working on the right side of the photo.
More Links