Hollywood Stars
The photos on the following pages of The Walk of Fame Stars are royalty free for you to use.
The sidewalks in Hollywood have stars which contain the names of individuals, couples, groups and fictional characters. Probably the most photographed walkway in the world would be Hollywood Boulevard with Vine Street maybe being second. The sidewalks are called The Walk of Fame. Tourists with cameras are taking home photos of their favorite names.
When a major movie actor or director dies, his or her star is often covered with bouquets of flowers from fans. There are volunteers who clean the stars about once per week. Some stars are kept looking brand new and others are dingy and some are in disrepair.
Walk of Fame Process
The stars are "given" to actors and behind the scenes personalities in recognition of their contribution to Hollywood style entertainment. Given is a misleading term since the star ceremony does cost a lot of money. When I proposed a star for Cliffie Stone I had to guarantee that Cliffie would be at the ceremony and I had to sign a document that I would collect and pay $3000 for the cost of the event. That was in 1989. Today the cost is about $25,000.
There are stars on the sidewalks along Hollywood Blvd. and for three blocks on Vine St. Many of the stars have the names of famous actors and performers from Motion Pictures, TV, Radio, Recordings and Live venues. There are famous people whose names are instantly recognizable and some who are lesser known. There are stars with the names of directors and comics and even fictional characters (Mickey Mouse has a star).
Gene Autry has five stars. One each for recordings (He had the second largest recorded song sales of all time for "Rudolph, The Red Nosed Reindeer."), TV, Movies, Radio and Live venues, for the many rodeo and stage performances of his career.
Links
Hollywood Screams (Horror Films)
Fairfax, Hollywood's "Other" High School
More Links
Walk of Fame
/p>
James Dean's Star
Click on any star picture to open a bigger photo of the star. Feel free to use the pictures for any purpose but do not link to my picture. Do not use my bandwidth but you may download the image for your own site. A credit is appreciated but not necessary.
Located North of Hollywood Blvd. on the West side of Vine Street. This star is about 200 feet from the corner of Hollywood and Vine. There are many sites which tell James Dean's story. This LINK leads to one site. There are many others. When you are standing where this picture was taken, you can look across the street and see the Capitol Records building. If you continue walking North on Vine Street you will arrive at The Vine Street Theatre (also known as The Hollywood Palace). Keep walking North and you will get to Chuck Berry's star.
There are some murals in this area. One at the South side of the bottom floor of the Capitol Records building. This is an area best visited by walking. There are plenty of places to park but I recommend hotel visitors in Hollywood just go by foot.
Going North means walking uphill here, so be in shape.
Cliffie Stone's Star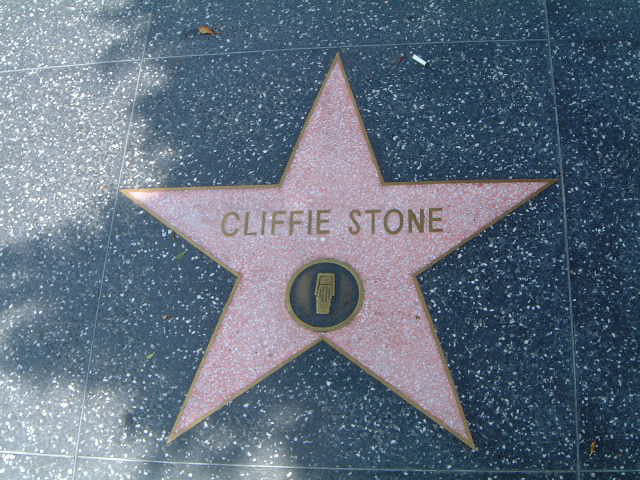 This star was presented to Cliffie Stone on his birthday on March 1st, 1989. I was there. I had written the letter which resulted in Cliffie getting the star. I did many shows with Cliffie Stone during the 80s and 90s. This star is just a few steps North of Sunset Blvd. on the West side of Vine St. The star was presented for Cliffie's radio shows. I did several shows on radio with Cliffie as my guest star. Cliffie was putting together a brand new radio program before he passed away. This LINK will take you to a very old picture of Cliffie with Stuart Hamblen's Band. Herman The Hermit seen in the photo is Cliffie's dad. Go to Walk of Fame Stars, Page 2.