The Unions
Screen Actors Guild (SAG) and The American Federation of Television and Radio Artists (AFTRA) have been trying to merge into one union for on camera performers since 1980. They appear to be very close to reaching that goal. If they merge a new initiation fee and annual dues structure will most likely be part of the deal.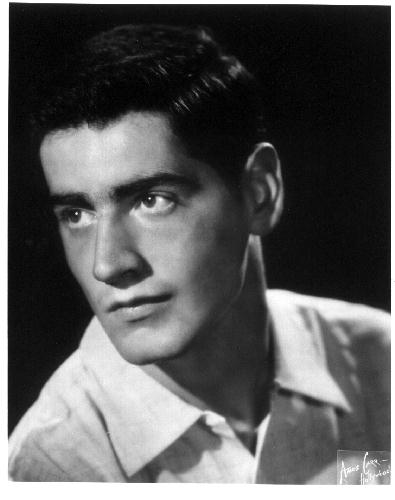 When you first arrive in Hollywood you might wonder if you should join SAG (Screen Actors Guild) right away or start by working as a non union actor or non union extra performer. Actually joining SAG is not so easy. You might want to join some other unions or guilds though. This photo of me was taken in 1956. I had just arrived in Hollywood and I was ready to be a star. At that time I had no idea what a movie extra was. I had no talent to propel me to fame. I was just another guy who got off the bus in California and had a desire to be in movies or on TV. I did not know anyone in the entertainment business. I knew nobody in California when I first arrived.
I worked my first movie job as an extra 23 years later in 1979. I worked in warehouses and I drove trucks while I kept pursuing the dream. I also learned to play the piano and started a publishing company. I joined the Musician's Union (1962) and AFTRA (American Federation of Television and Radio Artists) in 1963 when I worked at a union radio station. That eventually helped me get into SAG. In 1979 I became a member of The Screen Extras Guild.
I became a member of SAG (Screen Actor's Guild) in 1980. In 1980 the initiation fee for SAG was $300. That seemed like a lot of money at that time. I was able to get in for only $150 because there was a 50% discount for AFTRA members. Today it would be about $2300 to join SAG IF they needed you for a movie or TV show.
I never did belong to AGVA. It is a great guild to join if you plan to do live theater performances.
This picture of Jackie Gleason showing how excited he was to meet me was taken in 1980. That was the year I joined SAG. Jackie worked in MY movie "Smokey and the Bandit, II." I was an extra in one scene.By 1980 I belonged to so many unions I was always on strike. There was a five month actor's strike in 1980. It began just as I was getting known by the extra casting agencies. When it was over I reintroduced myself to the industry and things started to happen for me that were fun and lucrative.
Membership Requirements
SAG is the union which represents speaking, on-camera talent on filmed shows and commercials. There are some exceptions to this but that is the general rule. To join SAG you must get three SAG vouchers while you are working as a non union extra on a SAG show. To get a SAG voucher, you must be on a show where a SAG member working as an extra does not show up and that voucher (and higher pay) is given to a non union extra. After receiving three such vouchers you are invited to pay the initiation fee. As of February, 2011 the initiation fee to join SAG is $2277 plus one year's membership dues of $116.
You also can get into SAG by having a letter from a producer or director who will say they need you for their union film. Again, the initiation fee and dues will be collected.
Still another way to get your invitation to join SAG is to work and be paid under the jurisdiction of AGVA (American Guild of Variety Artists whose site is under construction), AGMA (American Guild of Musical Artists), ACTRA (Association of Canadian Radio and Television Artists) or AEA (Actor's Equity Association). You will then pay the initiation to SAG as previously mentioned.
Be sure to check Makin' it in Hollywood. That is a good place to begin.
Any e-mails for the webmaster can be sent to this e-mail address.
Build an income making website
Hollywood Screams (Scary Movies)
Fairfax, Hollywood's "Other" High School
Promote yourself on the internet
Keep Moving Forward
Union Benefits
SAG has good benefits if you work enough to earn them. SAG has a health plan and a retirement plan. You must be 55 or older with ten qualifying years of earnings to get a pension from SAG (See the update below. You will have to work much longer than ten years now to get retirement benefits. The numbers keep changing so be sure to check with your union for the latest.). At 65 you will get the full pension if you have enough qualifying years (Check the update.). Qualifying years are based on the performers earnings and in some cases the performer's age. The amount of earnings needed will be $30,150 yearly depending on various considerations and plans. The $30,150 is for earnings beginning in 2011. For 2002, $15,000 was the minimum amount for some members. It changes every year. The number of years required to earn benefits is now 15 or more in most situations. Check the SAG websites for new updates as they happen.
UPDATE All of the retirement and healthcare benefits requirements have been drastically changed in recent years. The economic setbacks in recent years caused the SAG Producer's Retirement and Healthcare Plans to have to cut costs and even benefits for many, especially new members. It is now necessary for incoming SAG members to work at least 20 years to receive retirement income. The healthcare considerations are also changed with actors now needing to work more and, if necessary, pay some of their own premiums. You can get the latest information from SAG's website here.
AFTRA is easier to join. It is an open union. Take in your $1600 plus $65 membership dues and you are in. AFTRA is the union for radio performers and soap operas and some sit-coms and even a few promos, commercials and music videos.
The Screen Extras Guild no longer exists. Both AFTRA and SAG have extras recognized and provided for in their contracts.
There also is a union for musicians. Getting into the musician's union (AFM) varies from state to state. If you are going to work as a musician in a scene in a movie, it is best to belong to AFM. The AFM which is the American Federation of Musicians. There are unions for entertainers in most countries of the world. Usually those unions cooperate with and recognize each other.
More Links